Winsor & Newton Watercolour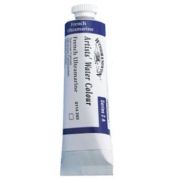 Winsor & Newton Artists Watercolour 37ml
One of the very best ranges of watercolour with the widest range of colours and optimum permanence. 23 colours are available 37ml tube size which offers up to 50% savings over buying an equivalent amount in smaller tube sizes
Multiple Prices – More Details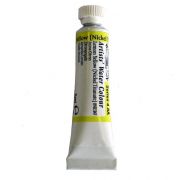 Winsor & Newton Artists Watercolour 5ml
Winsor & Newton's reputation for quality stemmed from their Artists' Watercolours. This range of 96 colours offer artists the widest choice of pigments with the bbest performance available.
Multiple Prices – More Details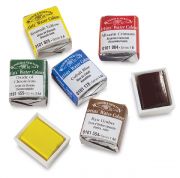 Winsor & Newton Artists' Watercolour Half Pans
The finest quality watercolour pans available in a diverse range of hues, providing great performance and permanence. Watercolour pans tend to often be used by beginners as it can be much easier to control the colour strength. These watercolour pans are made with the exactly the same pigments as the watercolour tubes and they are manufactured to the usual high standards which you would expect from Winsor & Newton. 96 colours are available Half-Pans.
Multiple Prices – More Details
Winsor & Newton Watercolour Paints are manufactured and formulated to create a high quality watercolour range which comprises of a well balanced selection of pigments with a high level of permanence.
Each of the 96 different colours within the range have been expertly chosen and formulated, offer the widest possible choice of colours, enabling the artist to select an individualised palette which is best suited for their style of watercolour painting.
We stock Winsor & Newton Watercolours in Half Pans and 5ml Tubes. A smaller selection of 23 different colours are also available in 37ml tubes.
Tubes and Pans
Both Artists' Watercolour tubes and pans are manufactured by Winsor & Newton to the highest standards. Pan watercolours are typically used by novices as it can be much easier to control the intensity of the colour. Tubes of watercolour are generally more popular and are used by artists who need stronger washes or greater quantities of colour.
Winsor & Newton Select the colours depending on colour strength, bias of colour (when it is in a thin film), opacity and the individual characteristics of each pigment. The resulting spectrum of colours guarantees that the vast majority paints from the range can be blended with each other.
This range of watercolours benefits from ongoing improvements in manufacturing methods and pigment technologies to make it possible for Winsor & Newton to build upon their already high standards to create even richer, more stable and transparent watercolours.
Colour Strength
The strength of each individual colour in the range has been created with the use of the most advanced colour manufacturing methods, enabling the strength of each individual colour being maximised. This maximum strength of colour provides the artist with the widest range of tinting possibilities.