Sennelier Soft Pastels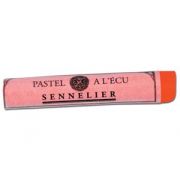 Sennelier Pastels A L'Ecu Large Size. Available in 62 shades. Each pastel is the approximate equivalent of 5 standard pastels.
30% OFF
Multiple Prices – More Details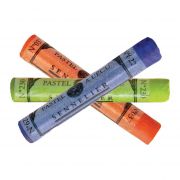 Sennelier soft pastels are one of the finest ranges of pastel available. They are comprised of top quality pure pigments which are blended with a transparent and natural binder. They have superior colour brightness due to the pigment and the natural mineral binders used in their manufacture which were originally formulated by Sennelier at the turn of the 20th century. Sennelier "à l'écu" pastels have been formulated to have an optimal balance of pigment and binder which results in a pastel which is of the highest quality possible.
When using the pastel it goes on to the surface in a smooth and creamy way, especially when used with finely textured pastel card. Their soft and creamy qualities make It effortless to create, blend or work over layers of colour.
Sennelier pastels are available in broadest choice of tones for each colour, with up to eight different shades for some colours. This makes them perfect for artists who prefer not to create intermediate shades by blending. There is a superb choice of iridescent and metallic pastels which can be used to create dramatic effects.
The pastels were originally developed by Gustave Sennelier at the beginning of the 20th century over a period of over 3 years. At the time of their initial development, the Sennelier range had the largest variety of colours of any range of pastels. Throughout the past 100 years the range has continued to evolved, but the essence of the traditional manufacturing process has remained.
The processes developed for manufacturing Sennelier soft pastels does not compact the blend of pigment and binder; they are dried naturally in the open air which results in their non-brittle characteristic. The longevity of the finished artwork is achieved not only by the quality of the particular pastels which are used, but also partly by the standard of the surface. If overlapping techniques are used, it is preferable to fix between layers. However, fixing the last layer too intensively should be avoided to prevent the loss of the original vibrancy of colour.
Because it is not easy to blend dry pastels, an extensive range of 525 colours are available. They can be used as a powder with a paint brush or an impasto effect can be gained by using your fingers. They can be overlapped or applied side-by-side producing a flat tint.